I'm a geek. I'm a huge geek and I'm an early adopter (context where context is due) and I've always been a Windows fan. Unbiased, but a fan.
That said, I've been having a recurring issue which has forced me to reinstall Windows over a dozen times in less than a year.
All of a sudden, Windows will start reporting that Microsoft's own applications are from unknown publishers. This will affect all MMC Snap-ins, newly installed drivers, and all other sort of programs and services.
As long as I don't reboot, Windows will continue to work, sort of.
But, the moment I reboot, I'll be greeted with a completely useless blue screen informing that a "critical" service has failed.
Ok Microsoft: which fucking service and what the fuck caused it to fail?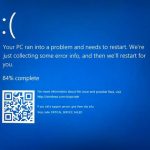 But wait, the BSOD presents a very nice and modern QR code, which happens to be completely useless. Regardless the reason for the BSOD, the QR code will always redirect you to a generic (useless) support page. Thanks MSFT!
Trust me when I tell you that I've tried EVERYTHING. Every – mother – fucking – thing.
But when this happens, there's no turning back. The only solution is to reinstall Windows 10.
I must admit that resetting Windows 10 is a painless and impressively fast task. Regardless of the issue you're having, a reset will provide you with a perfectly working copy of Windows, albeit without any of your applications or settings.
However, and for some reason, whenever I reset Windows 10 I end with a fully functional copy of Windows, but without a Windows Store App.
In this situation you'd think that googling "windows 10 missing store app" would bring you some useful results, right? Wrong! Dead fucking wrong!
Here's the ONLY way I've managed to install (from scratch, not to re-install, not to repair, to install) the Windows Store app:
Find a computer with the same version of Windows 10 and, of course, a working copy of the Store app
Take ownership of the

%ProgramFiles%\WindowsApps

folder on both, the working machine and yours
Copy all folders starting with

Microsoft.WindowsStore_

to your fucked up computer
When done, run this command on an elevated command prompt:


icacls

"c:\Program Files\WindowsApps"

/

q

/

c

/

t

/

grant

"ALL APPLICATION PACKAGES"

:

F


And… you're welcome!
NOTE #1: I can't remember where I got that code from. It's not mine, someone just went through the same shit and, being smarter than me, figured out how to fix the fucking Windows Apps.
NOTE #2: I'm almost sure the problem relies with the Disk Cleanup program and the Previous Windows installation(s) option. As soon as I can confirm it, I'll update this post.
NOTE #3: Just after fixing the Store app, I launched it and there was an update available to update itself. After updating it, the app stopped working… again. So I just re-ran the icacls command above and fixed it… again. For fucks sake MS!?
UPDATE #1: It wasn't easy, but I've found a blog post that describes this exact issue and it also blames Disk Cleanup:
In the article, the author appears to blame nVidia drivers (which I have installed), but I remember that, on one occasion, I was able to find that the culprit was, in fact, the Marvell 91xx driver.