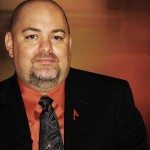 Mr. Dillahunty, host of the popular The Atheist Experience TV show, is probably one of the smartest atheists I've ever seen or heard.
I should also say that he's, perhaps, a bit too short tempered but I guess that's something you develop after so many years of having to deal with the stupidest people on planet earth.
Here are a couple of videos showing Matt at its best; of course, with the help of some also impressively smart co-hosts.
Enjoy!
And finally, my favorite of them all!
For more awesome videos, check out The Atheist Experience official web site: http://www.atheist-experience.com/